In our new monthly feature, love stylist Tristan Coopersmith answers our 15 Questions, plus dishes on her dating philosophy — sample a buffet of men before settling on the main course. And because you rock, we're giving one lucky reader a complimentary coaching session with Tristan (details when you read more).

Name: Tristan Coopersmith

Status: Married

Position: Love Stylist, Radio Host, Writer, Speaker, Author of MENu Dating: Taste Test Your Way to the Main Course
Who's your favorite couple, living or dead, real or fictional (preferably one we wont see in the tabloids next week)?
There are so many. I love Marshall and Lilly on How I Met Your Mother, Mickey and Minnie, WALL-E and EVE, my dad and my step-mom, and I have to say, I'm pretty fond of my husband and me.
Have you ever offended anyone on a date?
Yes, I bought a guy who offended me about a half a dozen times during a single date, the book, Dating for Dummies as a parting gift. 
In one sentence, what do you do as a Love Stylist?
I help women architect and actualize their ideal love lives through creative exercises, therapy and coaching.  
Where do we meet this buffet of men you speak of in your book MENu Dating?
Where don't you?! The whole world is one big dating playground if you skip through it with peripheral vision and an open for business sign. 
Who should we taste test? If we hate nerds, do we sample them, too? We love nerds, by the way.

Simply not all of one type is all the same, meaning not all nerds are created equal. A hot jock could totally be an undercover nerd and a nerd could be an undercover take-your-breath-away romantic. You have no idea what you really want or need until you try it on for size… so yes, I say have a bite of everything.
One reader asked, how do we prevent ourselves from ordering up an STD on a platter? Is sex on the MENu?
Great question. MENu Dating isn't about sleeping around. It's about dating around, plentifully and purposefully. Yes, of course part of learning about what you want and need in a mate is emotional, and part of it is physical so sex will certainly come into play but I don't advocate sleeping around for the sake of sleeping around. You need to be smart about it. You need to know where your boundaries lie and you absolutely need to be safe…  EVERYTIME. 
What is the ideal first date scenario? We heard you think women should offer to pay.
First dates should be casual and comfortable. Low pressure. They shouldn't feel like an interview process but the setting should offer you and your date an opportunity to get to know each other, so movies are a bad idea. I recommend activities that are active so your personalities are naturally brought out to play, instead of having to force it. 
Regarding paying, it's 2010, girls make as much as much as boys and I don't think that we should rely on guys to pay for dates. If they want to, great, we shouldn't argue it, but to assume that it is their responsibility is archaic and entitled, in my opinion.  
What happens if we're greedy and like the whole smorgasbord?
Then rotate your roster for awhile, but do it honestly. Make sure that no guy thinks you are dating exclusively. It is the classic golden rule policy. Eventually you will lose a taste for some samples and along the way perhaps replace them or not. Never keep any on your plate that are no longer satisfying.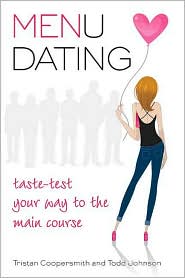 We've had enough appetizers, we're ready for the main course. How do we seal the deal?
Graduation is a big deal! I recommend Manalysis… a six-part process in my book that helps you evaluate if one of your mandidates really is main course worthy. 
To quote a rapper, Ice T once said: 'When a woman meets the right man, it's the right time. But when it's the right time, that's when a man meets the right woman.' Is it really all about (the man's) timing?
It is sort of scary to argue with the almighty Ice T, but, I think in life in general, when the right thing comes along, be it a person, a job, an opportunity, etc, you make yourself ready. It is all about being open to great things. Some people will never be ready to greatness because deep down, they don't believe they are deserving or capable of the responsibility that can come with good things. Love is one of those things. It is a huge responsibility to be in love – to really be in grown up love. For some people, they'd rather not bother and will use timing as an excuse. That said, the right person can change all that.  
Lets play a little game of 'Can I Get a Man With …'
In general, I don't believe in micro dating rules. For every rule, there is a happy couple that has broken it. So I could tell you that guys don't take girls who give it up on the first night seriously, but it isn't true. I know a lot of married couples who had sex on the first night. But, I dig your game, so I'll play.
… Vajazzling?
Décor down there is cute, but don't call it vajazzling and don't do it for him, do it for you. Same goes for why you should always wear matching and sexy lingerie. Regardless if you have a chance of it being revealed, it is all about how it increases your confidence on the inside which shines through on the outside… and confidence is sexier than any lace, cleavage or bedazzle.
… Chatroulette?
For a night but not a lifetime
I personally think this is a really smart idea. Cohabitating pre-marriage is like playing house and the dating prenup is just a smart safety guard. I mean what happens to the cute dog you got as a trial run for kids when you breakup? You need a shared custody plan in place before it gets ugly. I love that people creatively dealing as with their commitment fears. It is better to tip-toe than to stand still.
… Justin Bieber?
If he's gay or under the age of 10 years old, sure! 
OK, seriously. What is the biggest obstacle keeping women from 'getting a man with that'?
Herself. Women are constantly putting themselves in their own way when it comes to dating. Whether it is diminished self-esteem, an expectation that love will just coming knocking at her door (i.e. they don't need to go out and get it) or simply not believing in love, all of these things make her undatable.
Leave a comment for a chance to win a complimentary coaching session with Tristan Coopersmith! We're giving one lucky reader a 30 minute complimentary coaching session with Tristan. You have from now until 2 pm (EST) on Friday, May 7, 2010 to comment. A winner will be selected at random. Unlike dating, the rules are simple. All you have to do is answer this question: What do you think is the hardest part about dating?